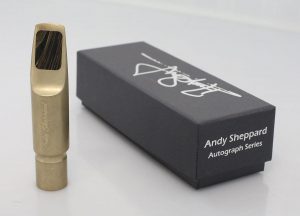 There's no such thing as "The Perfect Mouthpiece" ………… Is there?
Maybe not but, you can certainly get close.
After the incredible success of the Andy Sheppard Autograph Series saxophone it seemed like a logical step to look at the next important factor to producing a great sound after choosing your desired sax…….. Which is the mouthpiece.
Like most saxophonists, world renowned jazz man Andy Sheppard has been searching all of his career for "the one" when it comes to mouthpieces. Getting close but, never feeling 100% satisfied that he can achieve all of the sounds he desires on one single mouthpiece.
It always felt like, if I could have the response of this mouthpiece combined with the volume of that one with the focus and richness of those pieces!!
This was always a common topic of conversation between Andy Sheppard and Autograph sax consultant Andy Brush. They put their heads together to decide who would be the ultimate UK based mouthpiece maker with a great reputation and a wealth of knowledge to approach. It didn't take too long to realise that the incredible Morgan Fry would be the perfect choice.
An initial meeting was set up between Andy and Morgan to see what could result from putting two craftsman at the top of their respective games in the same room. From the outset, it was clear that the two had lots of mutual respect for each other. An indepth discussion about Andy's past preferences for mouthpieces took place. Notes were made about which aspects he liked about Berg Larsen, Guardala, Norberto, Ted Klum and vintage Otto Links (interestingly, Andy started on Otto Links and migrated back to these). These different brands had been Andy's personal choices over his career up until now. With Morgans vast knowledge of mouthpiece designs, he had a clear idea of what he thought would make Andy happy.
Within no time at all, both men were agreeing on the same concepts for a mouthpiece. After a few hours together, the first designs for a prototype were being put into action. One week later, Andy received the first mouthpiece for trial………… It was good but, it wasn't great. Andy called Morgan and described in detail what was missing from the initial model. Morgan then set to work on using his incredible knowledge to make the adjustments needed to improve the first version.
Two weeks later Andy received the revised model. Andy then put this through a thorough testing process of recording in his Bristol studio, listening back and scrutinising every nuance as well as playing in various live situations. This time, it was much closer to Andy's ideal mouthpiece. Again after hearing Andy's thoughts, Morgan went back to work on another half dozen pieces all with varying degrees of subtle differences. Upon receiving these, Andy set to work once again on hoping to find the ultimate mouthpiece in this selection.
Several hours of recording, listening back to every detail and comparing each model helped Andy narrowed it down to one particular mouthpiece that stood out from the rest.
Another meeting with Morgan to make some delicate alterations on this almost perfect mouthpiece was the final part of the journey. With Andy play testing after each little adjustment, the finished item was closer than ever.
Within no time, Andy was feeling like the search was over and incredibly happy with what he describes in his own words as
"The Best Mouthpiece I've Ever Played"
Andy hopes that through his years of experience playing mouthpieces combined with Morgans incredible knowledge and craftsmanship, they may just have come up with a piece that is as near to perfection as possible for every saxophonist that cares about their sound and need to express themselves without working too hard.
This mouthpiece undoubtedly has the Andy Sheppard personality ……. It is incredibly versatile and allows you to play beautiful rich subtones at a whisper without losing any of the depth of tone, in much the same way that an expensive pair of hi fi speakers will maintain a glorious full sound whether played loud or quietly.
The mouthpiece allows you to sculpt your sound and produce an incredibly controlled tone with a distinct presence that commands the listeners attention. Naturally, It is a perfect match for the Autograph Series tenor. Trialled on many different brands of tenor sax, it seems to bring the very best out of each respective horn.
The Andy Sheppard Autograph Series tenor saxophone mouthpiece is available in 2 tip openings which are 7* and 10. They are sold without ligature and cap.
Please be aware that these mouthpieces are a raw brass finish and may show cosmetic imperfections due to not being plated. This will not affect the playability in any way. The mouthpiece will take on a vintage patina in a very short time with handling and exposure to moisture.
It is strongly advised that the mouthpiece is wiped down with a dry cloth after use and to remove the reed when not in use.